Searching the Sublime with the 18th Century Tourist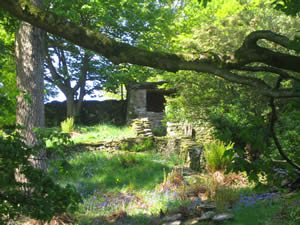 On this unique tour you will follow in the footsteps of the "Tourists" - view sweet images, absorb perfect serenity and enjoy the beauties of nature. Your Grand Tour will take you in search of the sublime on dramatic mountain roads and on gentle walks on Lake shores.
The 18th Century was a time of enlightenment, an age of curiosity, and marked the beginning of the Romantic Movement, in particular the advent of "the Lakers ..... those persons who visit the beautiful scenes in Cumberland and Westmorland called the Lakes". Travelling along new roads the "Tourists" viewed the landscape picturesquely from strategic viewpoints that became known as "Stations". The "Tourists" used a Claude Glass to view magnificent panoramas. You may wish to use binoculars, telescopes, cameras, sketchbooks or just your mind's eye!
Your tour can be organised for you by coach, minibus, your own car or by public transport. Private visits to remarkable places not usually open to the public are possible. Gentle hikes are often included. Locations to visit include:
Coniston Water on the Steam Yacht Gondola - www.nationaltrust.org.uk/gondola/
Aira Force - www.nationaltrust.org.uk/ullswater-and-aira-force/
Claife Station and Windermere - www.hawksheadvillage.co.uk/Hawkshead
Rydal Hall and Gardens - www.rydalhall.org/gardens/
Buttermere - www.buttermereweb.co.uk/buttermere-village/
---
Dear Valerie – We want to thank you for a fabulous two weeks in the Lake District! You made our trip so enjoyable – it was a relaxing pace and you told us just enough information! Thank you for all your preparation beforehand. You are by far the best tour guide we have ever had!
Dr. Greg and Mrs. Christina Peters – California, U.S.A.
---
Other Tours
Romantic Walks in Literary Lakeland
Uncovering the 19th Century Arts and Crafts Movement
Historic Gardens of the North West