Uncovering the 19th Century Arts and Crafts Movement in Cumbria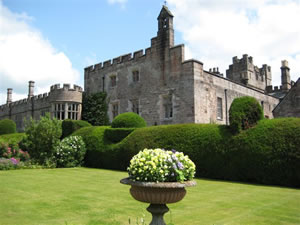 In 1861 a group of like-minded artists and architects formed "The Arts and Crafts Movement". Three founder members, (William Morris, Edward Burne Jones and Phillip Webb) were championed by George Howard, 9th Earl of Carlisle. He lived at Naworth Castle in the North of Cumbria and sponsored many forms of Decorative Art and Architecture in the Region and in London.
Between 1880 and the end of the First World War there was a widespread, multi-faceted revival in traditional handcrafts in Cumbria inspired initially by the teachings of polymath John Ruskin. Pioneers established workshops in Keswick, Kendal and the Lake country. Textiles, woodwork, art and metalwork made by hand by local craftsmen and women persuaded new sightseers to the area.
In the late 18th Century an increasing group of wealthy Northern Industrialists built holiday homes in the Lake District. They supported local crafts people, celebrated architects and eminent landscape gardeners. There legacy lives on in the region today.
Your tour can be organised for you by coach, minibus, in your own car or by public transport. Private visits to remarkable places not usually open to the public are possible. Gentle hikes are often included. Locations to visit include:
Naworth Castle, Brampton Carlisle - www.naworth.co.uk
Brantwood – home of John Ruskin - www.brantwood.org.uk
Blackwell – Arts and Crafts House - www.blackwell.org.uk
Tullie House Museum & Art Gallery - www.tulliehouse.co.uk/old-tullie-house
St. Martins Church Brampton - www.stmartinsbrampton.org.uk/stmartwin6.htm
---
Dear Val – Thank you so much for such a marvellous week. You have been a brilliant leader with a wealth of information, bringing the Arts and Crafts Movement to life. Ralph and Jenny Arnold – Surrey, UK
---
Other Tours
Romantic Walks in Literary Lakeland
Searching the Sublime with the 18th Century Tourist
Historic Gardens of the North West